Back in my early teens, I used to eat green veggie burgers made from modified soy. At the time of course I didn't know any better and thought that these were a perfectly healthy staple to my then vegetarian diet. I recall my brother calling them "alien burgers" because of their greyish-green creepy colour. To make things worse I am pretty sure I popped them into the microwave and voila, I had dinner.
The first run
Let's fast forward a bit. Several years ago I came across a similar burger in a cookbook that sparked this memory for these green burgers. I had to modify them to my dietary needs at the time, making them wheat free. My upgraded version composed of spinach, almonds, spelt bread crumbs and brown rice flour. They were so simple, so easy to make and the tasted beyond delicious. My spinach almond patties became an instant hit in my cooking classes, at dinner parties and were on ongoing stable for me to keep on hand for a quick meal or add on.
The upgrade
Now since my diet has evolved even further, I have been toying around with ingredients. Since nuts and grains are no longer part of my protocol, I had to remove these and substitute something else in. So I introduce the upgraded version of these ever evolving green burgers! They include one of my favourite flours these days, made from tigurnuts!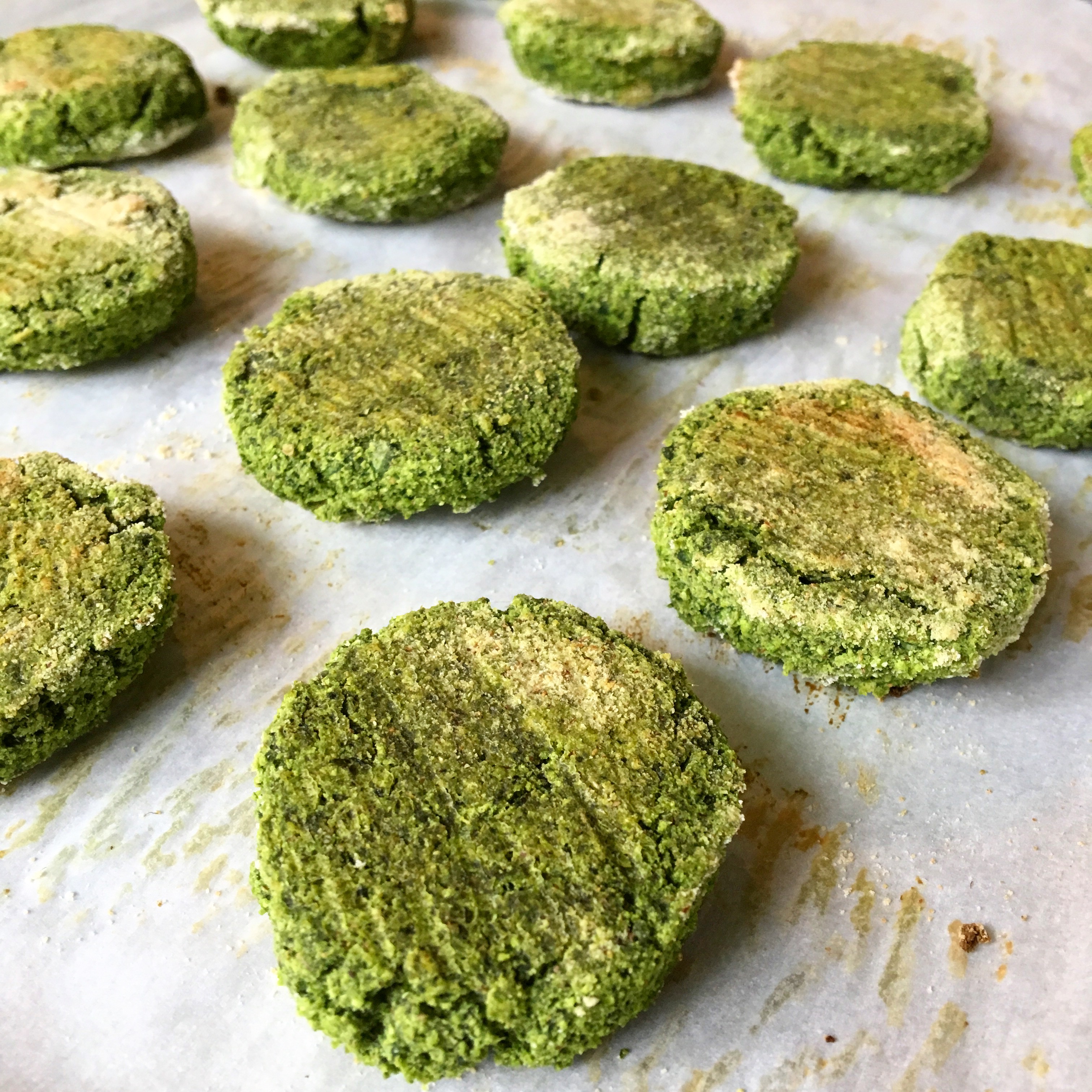 Grain-Free Green Burgers
What's In It?
1 bunch fresh spinach, washed, dried and stems removed
1 medium onion, chopped
1 cup tigernut flour (I use The Chufa Co.)
1/2 cup coconut flour
1 teaspoon dried dill
2 tablespoons olive oil
2 tablespoons tamari
1/4 tigernut flour for outer coating
How It's Made
1. Preheat oven to 350F. Place the spinach and onions in a food processor and blend on high until a coarse paste begins to form. Add the tigernut flour, coconut flour, oil, tamari, coconut flour, dill and blend again until all of the ingredients are combined.
2. Fill a small bowl with water for wetting your hands while flattening out the patties.
3. Begin rolling the spinach mixture into small balls and then flatten them out with your fingers or a fork, and then roll each ball in the tigernut flour for  the outside of each patty.
4. Place the finished patties on lightly oiled cookie sheet or a sheet lined with parchment paper.
5. When sheet is full, place in pre heated oven for 30 minutes.
6. Allow burgers to cool on the sheet and place them in a bowl or on a platter.
These taste amazing on a salad, on a coconut wrap or nori wrap. They are also delicious stacked between lettuce or wilted collards. They freeze well and will last for up to 1 week in your fridge fresh.