The Food Studio Cookware, called Saladmaster, is energy efficient, as it conducts
heat well. It also keeps nutrients in and makes for better tasting meals, which is very important to us and to our clients. It is non-toxic making sure that nothing leaches and harms the food. Our cookware is also Beginner Friendly, as it prevents food from burning because of its little heat valve! Finally, Saladmaster is made of premium quality and lasts for life.
If you are interested in knowing more about our cookware, please feel free to ask us questions in the comment section of this post.
Also, if you sign up for the following cooking classes  you can give Saladmaster cookware a try!
Mexican Fiesta on Monday November 4th
All Cultural Classes are 2 for $199!!! Call Us to take advantage of this amazing deal and SAVE $70!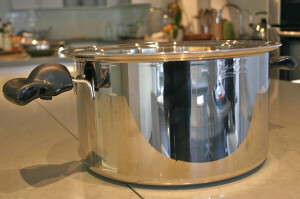 Also on December 10th a Saladmaster Representative will come by the Studio for a FREE Workshop called "Get To Know Your Cookware." Learn the ins and outs of cookware and How to Cook in Style!
Quinoa Tabbouleh
Quinoa is a tiny seed and whole grain that is light and easy to prepare. It is high in protein and tastes great in many recipes! This salad makes a great lunch, snack or dinner. Easy to pack up in a container or send it with the kids to school for lunch!
Ingredients
Instructions
1. Rinse quinoa and strain through a fine mesh. Add rinsed quinoa to a pot and dry toast for a few minutes. Add 2 cups of water with a pinch of sea salt and bring to a boil.
2. Simmer quinoa for 15 minutes until all the water has absorbed.
3. Turn off heat; let it sit for a minute or two. Then remove quinoa and spread out on a plate to cool.
4. Then place into a bowl and combine with chickpeas, onions, tomatoes, cucumbers, spinach parsley and mint.
5. Mix dressing and toss into the quinoa mixture, and gently stir from the bottom up.