Last Friday morning Marni and I went to Iyashi Bedrock Spa just north of Eglinton on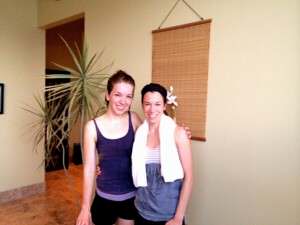 Yonge for a Hot Rock Yin Yoga Class.
What is a Hot Rock Yin Yoga Class? To start, we didn't listen to rock n' roll while in Shavasina.
Unlike a traditional yoga class, at Iyashi you practice yoga poses on Japanese imported black silica bedrocks in a heated room. The stone beds are kept between 42 and 44 degrees Celsius and the temperature in the room is set to 60 degrees Celsuis. This provides for a safe and soothing atmosphere. Also, the heat helps immensely with all poses, allowing you to stretch a little further than usual.
Not only was the staff incredibly friendly at 6:30am, but our Yoga instructor was lovely. She created a calming environment for a peaceful practice with just the right amount of challenge.
I know that both Marni and I were in need of a morning like this. Marni had just completed the Half-Marathon and the days following she was hobbling around the Studio. And I get a lot of back pain from sitting at a computer all day. This practice really helps to counteract the activities that we do everyday that stiffen the body.
Marni and I would recommend Iyashi Bedrock Spa to anyone who cares enough about the health and wellness of their body and mind– and who doesn't? 🙂 Stay tuned for our next Urban Retreat in January, you may be waking up at Iyashi too!
If you are interested in strengthening your health and wellness through cooking try out…
Acid/Alkaline Balance on November 5th at 6:30pm
Scrumptious Sea Veggies on November 7th at 6:30pm
Cancer Fighting on November 14th at 6:30pm