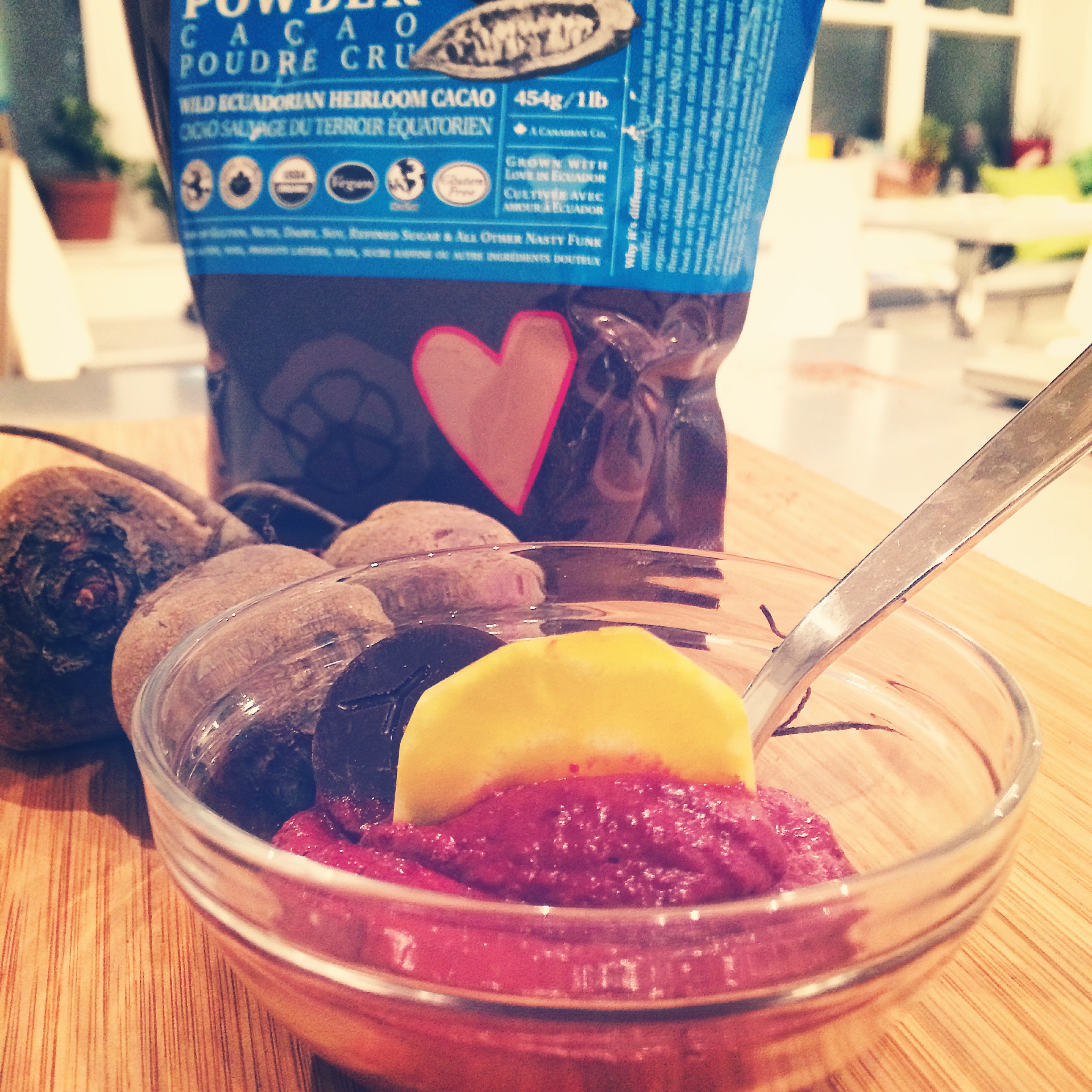 On Monday night I had the privilege of having some epic movers and shakers from the community at the studio for a special night to kick of Organic Week. The theme was Soil to Table and the goal was to have each of us describe how we raise the bar with out level of commitment to organics and sustainability.
Organic Week
The event was put on by Organics Live and they have compiled and incredible video which you must watch below. Produce was supplied by Cookstown Greens which is a family run farm that grows over 150 varieties of the best certified organic vegetables, greens, seedlings and garnishes.
Then Bridgitte from Giddy YoYo shared how her company got started and the level of commitment that they have to their farmers that are producing their cacao. If you haven't tried giddy chocolate yet, it is some of the best chocolate around.
Then I was put to the challenge to make a mystery recipe using beets and chocolate the ingredients of choice for the night. The recipe is featured below…have a look it is truly the first time I have ever made anything like that.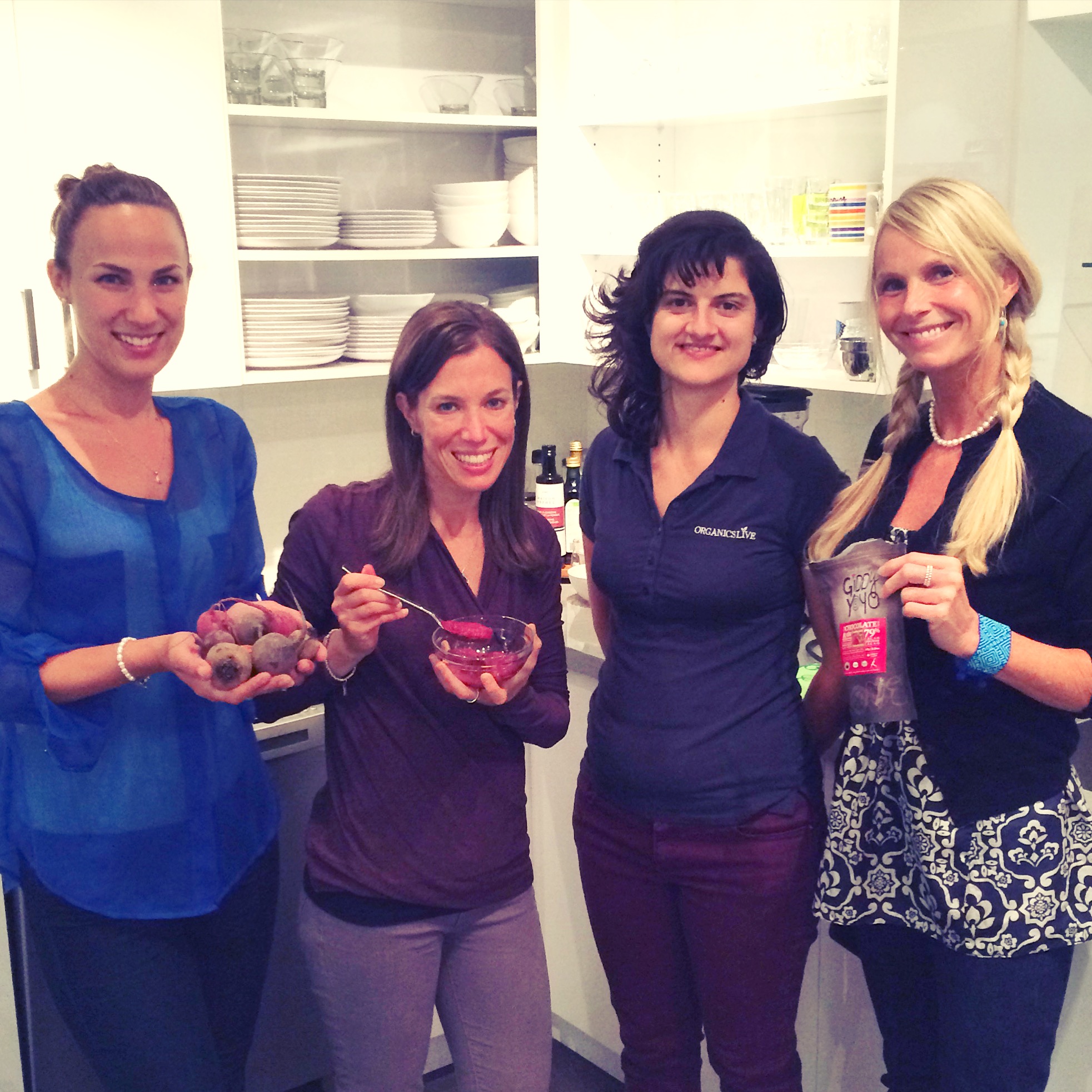 First though let me share some knowledge and perspective on the importance of organic.
Organic Vs Non Organic
When it come to choosing produce, you want to choose organic wherever and whenever possible. This ensures that you're putting the highest quality food into you body. Organic produce hasn't been sprayed with pesticides, fungicides or herbicides, which are used to kill pests and diseases. If those substances kill them, what are they doing to you?
Buying organic also means that the produce has been grown in soil that is well maintained with nutrients, which results in fruits and vegetables that ultimately have more nutrients and taste better. I would suggest making an effort to choose as much organic produce as possible to found which ones to start with, choice out the ewg.org
The choice to eat organic is all about making a choice to eat foods that aren't treated with pesticides, herbicides, fungicides and the like. It also likely support agricultural practices that preserve and work toward bettering the condition of the soil. Organic soil has more nutrients, including minerals. This makes for foods that all around taste better and are better for you.
Local vs Organic
When it comes to local, organic or local and organic people get confused and want to know which is better. From my perspective if you can get your hands on both, that is generally the way to go. But not always.
When you have to make the choice between local non organic an dorganic from across the world, it may be in your best interste to choose local.
When food (even organic food) travles long distances, it loses its enzymes, nutrietns, and life force, so youre left with an organic strawberry from South America that may have ripened on a truck, train or plane. This means that unnatural gases and methods have been used to articficially stimulate the growth process.
In the end, you just need to do the best you can and make the best choices you can at a given time.
Red Velvet Chocolate Pudding
2 beets shredded
2 tbsp cacao
1/2 banana
2 ripe avocados
1 tbsp maple syrup
1 pinch of cinnamon or vanilla
1 pinch of sea salt
Blend all the ingredients together in a blender until smooth, creamy or velvety!
Watch this little recap of the incredible event that we held at the Food Studio on Monday Sept 21st to kick of the week.