I am not going to lie, it is pretty simple to make a delicious smoothie. If you have a blender – bonus! A food processor, handheld blender or mix master just isn't going to cut it. Of course the kind of blender you have also matters! We will get to that later.
But when it comes to making the perfectly blended, creamy, thick delicious smoothie. There is a bit of a formula I like to follow to keep things consistent. Even though I may change up the individual ingredients on a daily basis. Who wants to drink the same smoothie every day?
Your blueprint for making the best smoothies ever!
Liquid: Typically 1 cup, or 1.5 cups of liquid depending on how many your are serving
Coconut milk
Almond milk
Coconut water
Cashew milk
Hempseed milk
Water
Fat: Can add 1 tbsp – 1/4 cup or more
Avocado
Almond butter
Coconut butter
Tahini
Handful of nuts (walnuts, cashews, almonds, pumpkin seeds)
Sheep yogurt or goat yogurt
Greens and veggies: Can add anywhere from a 1/2 cup – 2 cups (fresh or frozen – except cucumber)
Kale
Chard
Dandelion greens
Spinach
Zucchini (my new fave addition)
Cooked sweet potatoes
Cucumber
Fruit: Can add anywhere between 1-2 cups of any combo of the following (fresh or frozen)
Berries (strawberries, blueberries, raspberries)
Cherries
Mango
Pineapple
Banana
Pear
Apple
Acai
Pitaya
Sweeteners (optional): Can add 1 tsp – 1 tbsp
Honey
Dates
Coconut sugar
Maple syrup
Stevia
Monk fruit
Superfoods/Protein:
Cacao powder
Chia seeds
Hempseeds
Match tea
Chlorophyll or spirulina
Lacuma
Maca
It will take some experimenting to find the blends that you love. But if you select from each of these categories at least one item, you should be good to go!
Here is one of my favourite combinations these days:
Creamy cherry avocado smoothie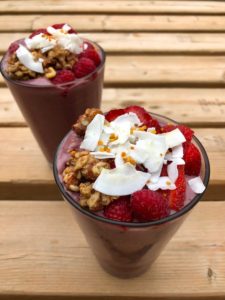 1 cup coconut milk
1/2 cup coconut water
1/2-1 cup water
1 cup cherries
1/4 frozen avocado
1 frozen banana
1 scoop collagen
1 scoop plant based protein
1 tbsp almond butter or tahini
2 slices frozen zucchini
Top with your favourite goodies like coconut, bee pollen, homemade grain-free granola, fresh fruit…
Blend and enjoy!
So now back to the blender you blend in. Firstly if you don't have one yet, you will need to get one! Secondly, I am always excited about Breville's new creations, specifically their blenders. They have crafted some amazing appliances over the years and I have been using my BOSS blender for almost 7 years! It is amazing and has truly stood the test of time.
Whether blending is already part of your routine, or you are now inspired, you'll be interested to hear that Breville has worked hard to engineer their new Super Q blender to make blending simpler than ever.
It's powerful, high speed you will never have an issue blending anything from smoothies, soups, dips, nut butters, nut milks, salad dressings and sauces – you name it. One of my favourite ingredients to add to smoothies is frozen avocado. They are so hard when they are frozen and this blender makes every smoothie so thick and creamy and the best part is that it is super quiet.
It comes with a standard jug and also a personal blender, so it's perfect for when you're on the go.
And the most fun thing about this blender is the different settings like the green smoothie, soup, and frozen dessert button, to make whatever you are blending super simple and take your blending to a WHOLE NEW LEVEL!
If that wasn't enough they also came out with a Vac Q (sold separately) cleverly secures on top of the blender jug, and removes all air and bubbles from whatever you're creating, to ensure creamier texture and richer flavours.
So now the fun part – I bet you want to WIN ONE OF THESE?
Yes, I am giving one of these blenders away for free!! All you have to do is head over to my boss on instagram @marniwasserman and comment on instagram on the picture that is the same in this post using the guidelines provided.
I will then be announcing a winner on Friday August 16th at 9:30 am EST! So be sure to tune into my instagram LIVE where I will be sharing my breakfast smoothie recipe + the lucky winner!
ALSO!
To get more smoothie making and raw food inspiration be sure to listen to Fully Raw Kristina on The Ultimate Health Podcast – she shares her story and philosophy on eating fully raw.