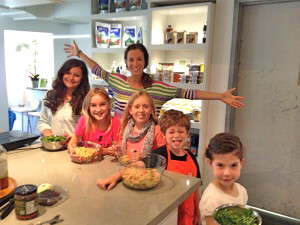 Saturday night I had dinner at Marni's parents' place. Since I started working for Marni, I've been hanging out at the Food Studio; I forget that she taught her classes in her parents' kitchen for 5 years prior.
Being in her parents' home, I reminisced about my first cooking class with Marni. It was the Mediterranean Flare Class and I was assigned to make Tabouleh. I didn't have a foggy clue what Tabouleh was. And while the rest of the class began to chop food, I stood there staring at the instructions holding a cucumber in my hand wondering when I could eat. Then Marni rescued me and in a soft voice she said, "So you're making a salad…" and I was on my way.
After dinner we sat on her parents' deck with cups of tea and I got Marni's thoughts on Family Dining.
Family dining is a hot topic these days with parents trying to find ways to bring it back to their families' weekly schedule. What are your thoughts on family dinners?
Family is important to me. And eating with family is so important to creating togetherness. By teaching parents and kids to be fully nourished, I like to think that I have a part in bringing families together, because they can share this knowledge in their own kitchen.
How have your classes maintained a family appeal?
Because my classes began in my parents' kitchen they have always had a cozy feel. When I was designing my Food Studio, I wanted to keep that sense of home, which is why my Studio resembles a family kitchen. It's a welcoming space.
What sort of classes do you offer that are family-friendly?
All my classes are open to family, but with this new space I can offer more classes that specialize in family cooking. This summer I ran my first Kids Camp, which was a great success!
And this fall, my studio will be offering classes for Mom and Tots, Kids and Teens. As well, I plan to have infant nutrition experts come to the studio to share their knowledge and educate parents.
Oh to be a kid again!
A Tasty Tip to Try with Your Kids
Instead of Jello or Pudding TRY Yoso Coconut Yogurt top it with fresh fruit or dark chocolate chips – this is a perfect nut free snack to pack up or for after school.
Join us tomorrow for Why Marni is NON-GMO.
If this article interested you, you'll love the following cooking classes…