Here at the Food Studio our islands move! This becomes very handy when we want to change the feel of the space from modern and urban to cozy and homey.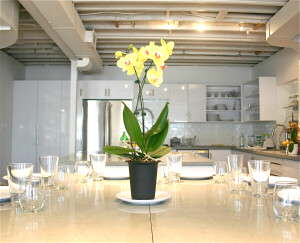 If we want to have Corporate Team Building Competitions we separate the islands to create stations for each team.
If we want intimate family dining amongst friends and family we bring them together so our guests can share stories and of course share food!
The Studio also has café style seating for when you want to dine alone, review yours notes on the cooking class or read the latest Tonic magazine. Café style is also great when you want to chat quietly in groups of 2 or 3 seated comfortably along the cushioned backbench with pillows.
Whether you are hosting a private party with family and friends or attending a cooking class to learn new recipes, we've got a seat for you!