Nervous about the sugar-attack that your child will receive at midnight after they've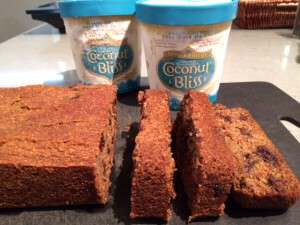 eaten an entire pillowcase of mini chocolate bars and candy corn? Or are you worried that three weeks from now you'll find that stash of chip bags that YOU hid in the basement for Halloween? Because you know that once you remember where you hid it you'll feel compelled to make midnight trips to the basement to munch on Doritos?
Don't do it! Because you don't have to!
Make HEALTHY Halloween Treats like our Chocolate Banana Loaf with a scoop of Luna and Larry's Coconut Bliss Ice Cream! See recipe below!
And for your little witch and wizard give them better junk! They can still enjoy the excitement of Halloween treats without refined sugars and chemicals!
Other Devilishly Delicious Recipes for Halloween include…
TREAT your child to Healthy Treats, don't TRICK them with Junky Sweets!
Have an allergy to dairy in your family? Sign up for Marni's Dairy-Free Desserts Cooking Class! Trust us, dairy is NOT the secret ingredient for baking delicious treats!
Rustic Chocolate Chunk Banana Loaf
Don't waste your almond pulp after making your own almond milk! The fresher the pulp, the moister your bread will be. This recipe would work well with spelt flour as well, but there is something so special about Kamut. This organic, heirloom grain is high in fiber and is considered a high energy food that is also high in protein.
Ingredients
Instructions
1. Preheat oven to 350F. Mix wet ingredients and dry ingredients seperately.
2. Use a large bowl for the dry ingredients. Then mix wet ingredients into dry and fold slowly,
and mix together until there are no lumps. Stir in blueberries or chocolate chips.
3. Drop by spoonfuls into an oiled muffin tray or pour batter into a loaf pan.
5. Bake for 20 minutes if these are muffins, or 40-50 minutes if this is a loaf.