The honeymoon in Bali is over but the adventure of life as a married couple has just begun! If you read about Our Ultimate Wedding you will see that we had the perfect wedding, and now the perfect honeymoon. Bali is truly all its chalked up to be. After almost a day of travelling here, we are please to say it was worth it!
However there are a few things I will share with you in this post that will give more insight about the real side of Bali, what to expect, what to eat, what to do. This is of course coming from only my opinion and a majority of our stay was in Ubud. We did a short day trip in Canggu and I know there is still so much more of this special island to explore.
We were cautiously advised by good friends of ours to stay in one spot and travel from there. Being as though Ubud is quite central, it was a great decision. None of our day trips took more than an hour to get to and although the roads and driving can be a little nutty, it was quite easy to get around.
We also chose to stay in four different locations over our 20 day experience. We did this to get a bit of sense of the area from different perspectives and also to have a change in scenery. We didn't pack too much (well Jesse didn't 😉 ) so it wasn't that hard to pack up and move around. It really depends on the kind of traveller you are or what kind of experience you want. But for our first time in Bali we wanted to get a feel of different accommodations and locations. It worked out well – although there is at least one or two locations we would have omitted completely in retrospect.
I am going to start giving you the low down by telling you what is so great about Bali and why it's worth all the hype. At the same time, I will share some of the contrasts and downfalls of Bali.
Bali Offerings: listen to this episode all about our time in Bali recorded in Bali!
Truly the best parts of Bali comes from the culture and the people. It is so special to meet the locals in Bali as they are kind, generous, grateful, pleasant and genuinely happy. They all smile, say hello and just so pleased to have you around. In addition just seeing some of their symbolic practices like creating daily offerings and placing them on the streets, singing prayers, having full moon ceremonies or just sitting in small groups sharing stories. The people in Bali are truly something to experience.
On the flip side, I found the tourists in Bali to be the opposite. You would think that people would be just so happy to be here, which I am sure they are – but we found it so hard to engage with other people whether it was young couples or singles – most people wanted to just keep to themselves. there was a bit of a pretentious, hippie, health conscious vibe act was off putting. However we did manage to make some friends along the way, we always do! These will be friendship that will last a long time.
Other positive things about Bali is the scenery. It is just beautiful in so many parts of Bali, the vegetation is lush and rich and the rice fields are stunning. There is no shortage of eye candy – especially if you do some day trips.
On the flip side, amidst all the beauty, there is SO MUCH garbage everywhere. It's actually quite nuts. Just scattered plastic bags and bottles, wrappers, papers etc all over the streets, in the ravines and rivers. It's just so depressing to see how much litter there is on such a small island. From what I have heard, this tiny island just wasn't ready for the tourist influx after Eat Pray Love. Can you believe it? From that book and movie – Bali has exploded for better and for worse.
This also brings me to my next point, the pollution and the fumes! There are so many motorbikes and cars that it's actually quite hard to walk on the streets. There hardly any sidewalks in Ubud so it makes getting around difficult but you just find a way. I would recommend getting a little carbon filtered face mask if you are staying in Ubud Centre or for a long period of time and spending most of your time in the city. It is just that intense.
Okay let's go back to good things…THE FOOD!
The food is actually quite incredible as you also may have heard. There is no shortage healthy, clean, organic, gluten-free, vegan, vegetarian and even paleo options. Pretty much, it's a foodies paradise. Anyone can find anything to eat. Whether you want to experience local fare or indulge in the mecca of "healthy" options. It makes LA and NYC look bad. As the food is not only delicious and there are endless options, the price (for Canadians and Americans) is ridiculously cheap. you can have a fancy plant-based extravagant meal with apps, salad, main and dessert for less than $30. No joke.
So be prepared to be spoiled by endless options and everything is made fresh. Most cooked dishes are done in coconut oil and you can always get a gluten-free option. The odd place has organic chicken and fish – but I would say it's definitely more catered to vegetarians. You will see in my restaurant guide below all the options available.
On the flip side. All the good food can actually become too much after two weeks. Pancakes and smoothie bowls have their limit and so does tempeh burgers and stir fry's. It's fun for the first few days, but after a while it gets tiring and my body especially started to feel it. I hardly eat grains and soy anymore so at around the two week mark, I had to start spacing out the GF pancakes, coconut ice cream cones and starches in general. Even the fresh tropical fruit became too much after so long. Hard to say that as it's so good and fresh, but when you don't eat that much sweet – you feel it everywhere! My head felt foggy and my body felt heavy. So at this point we started making different choices (and luckily there are plenty to be made) at restaurants. Eating salads with protein or lots of veggies, getting animal protein with veggies, eating poached eggs and veggies and lots of green juice.
Okay I have shared enough from a story telling perspective. Now I will give you a guide of the places we have tried and I will rate them based on our experience out of 3. I got this inspiration from my friend Chloe who also wrote an amazing post that was very helpful to me before we left and while I was in Bali.
I want to emphasize that all of these places below are worth checking out if they appeal to you. There are so many options on all of these menus. What I have based this off of was a combination of what we ordered, the atmosphere, the taste, the service, the presentation or just the quality of the food. Lots of factors at play that could have affected our experience. So you may still need your own experience to feel it out. What made things THE BEST was a combination of the above and left us walking away feeling like that was worthy of going back multiple times!
*Just note that 1/3 or 2/3 does not mean the place was bad or not worthy of experiencing, it just wasn't the best!
So here it is. Your Best of Bali Guide
3 – Best
2- Great
1 – Good
Restaurants
Zest 3/3 – This is hands down our favourite restaurant in Ubud. We went approximately five times! The grain free pizza is ridiculous! The crust is made from taro and coconut and the toppings are unreal. They make their own cashew cheese and it MELTS! It's so good. They have a ton of small sharing dishes as well with a wide range of choices. We also went for breakfast one morning and the pancakes and smoothie bowl were incredible. What I loved about zest is that they were innovative and took things a bit further than most places and you left feeling like "wow that was so special"!
Crate (Canggu) 3/3 – This meal was nothing special in terms of what it was made up of. Eggs, toast, avocado, spinach – of course a combination that can't be beat. But what was amazing is the portion size, the quality (organic eggs, gluten free sourdough bread, goat feta) it was all amazing. Also this plate of food was less than $5. I mean it! If we were staying in Canggu we would have gone back at least a few more times.
Cafe Vida (Canggu) 3/3 – We stumbled across this little cafe on our day adventure in Canggu. We were tired, hot from walking and craving a thick chocolate smoothie. This was everything and more! It was so delicious, it had almond butter, activated cashews, coconut milk, cacao nibs and that green on the top is spirulina and coconut swirl!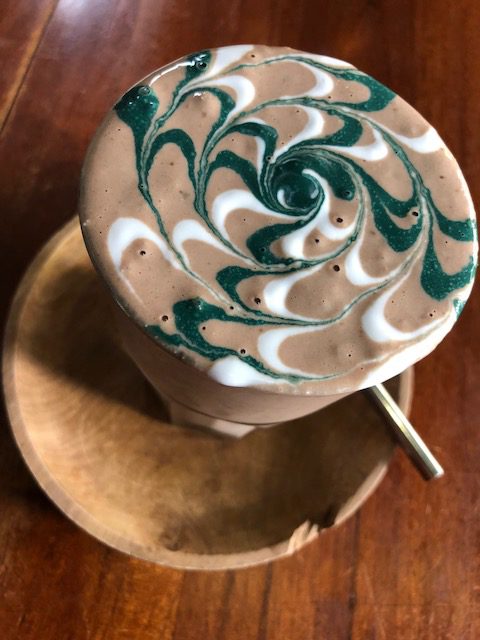 Kokolato 3/3 – If there is anything that makes me happy it's coconut ice cream! I was so happy to have been recommended to this place where there are multiple locations around town. I would recommend going here over any gelato spot! They make their own coconut ice cream from pure ingredients and also sweeten it with coconut sugar. As if that is not enough they have red rice gluten free cones sweetened as well with coconut sugar. HEAVEN! We went at least 4-5 times 🙂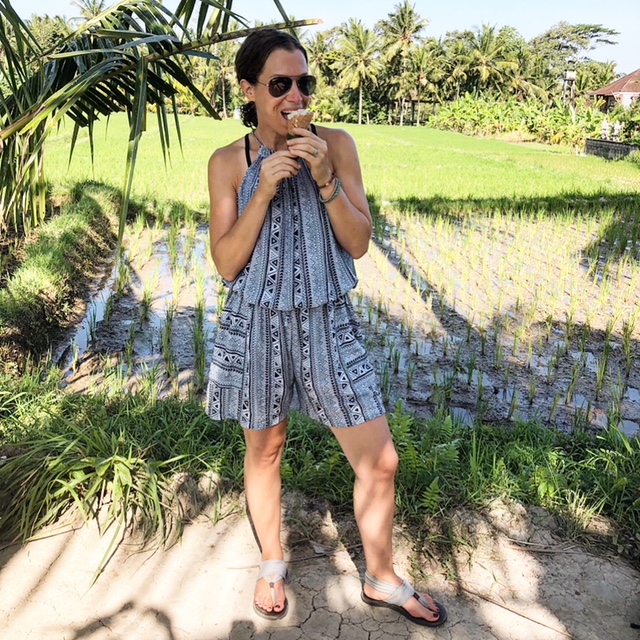 Falafel Warung 3/3 – We hit up this little spot right in the centre of town. We didn't even know about it or plan on it like many of our other meals. We stumbled across it and sometimes that is better! It was plant-based, organic and had gluten-free options. It was simple but so delicious and maybe it tasted so good because we were so hungry and it was random. Who knows but we had a delicious falafel plate with sweet potato fries.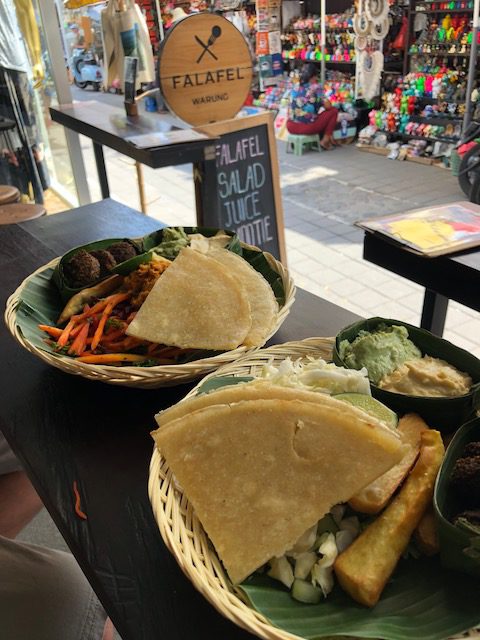 Sage 3/3 – It was a last minute decision to come here and we didn't know what to expect. It was amazing! The food, the atmosphere – it was all so good. It is not in the centre of town like some of the other places, luckily it wasn't too far from Devi's place and Desa Bulan. We had a kichari burger on a plantain bun and a delicious nourishing bowl of veggies and tempeh. Their desserts are also off the hook, coconut cheese cake and chocolate hazelnut fudge cake OMG! Such good food, we had to go back again!
Alchemy 2/3 – We ate here a a few times and each meal was delicious. It is all raw so you have to been in the mood for that. But the build your own salad and smoothie bar was amazing. Their pizza is great so and so is their chocolate maca shake!
Yellow Flower 2/3 – We had quite a few meals here as it was close to our first two villas. It was easy and simple food and the Sunday night buffet is amazing – almost deserving of a 3/3. My only hesitation is that I feel they need a few more green dishes lol and there was always a funny cooked coconut smell in the air that made me quite nauseas. But the crispy tempeh is out of this world! So is there steamed greens with organic chicken.
Shady Shack (Canggu) 2/3 – We hit up this highly recommended place in Canggu and it was great and super cozy. We were still so full from our lunch at Crate that it was really hard to enjoy anything but we managed to order two items to share; cucumber rolls with tempeh and super delicious sweet potato gnocchi with almond feta. Make sure to ask for it without chillies if you don't like spice!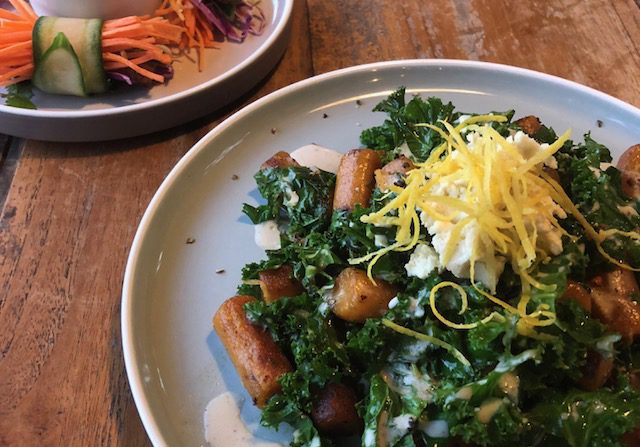 Matcha Cafe (Canggu) 2/3 – This was our first spot in Canggu for breakfast. The matcha lattes were made with fresh coconut milk and they were amazing and the grain free matcha pancakes + acai matcha smoothie bowl was also fab. It was a fun spot to check out with a great atmosphere. Small and cozy. I would definitely go back!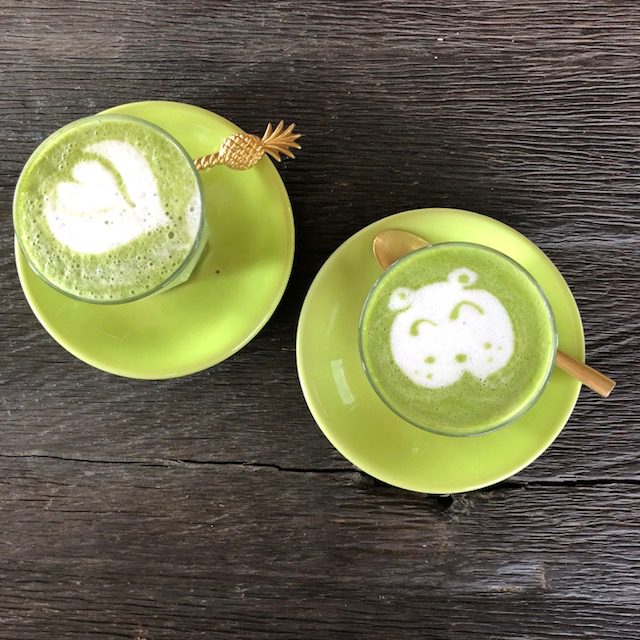 Seeds of Life 2/3 – This was one of our first meals in Ubud and it was great. A cute raw food cafe that has a wide variety to choose from on the menu. What also stands out about this place is their elixir and tonic bar. So many choices for medicinal healing drinks! With all the adaptogens and superfoods your heart could desire.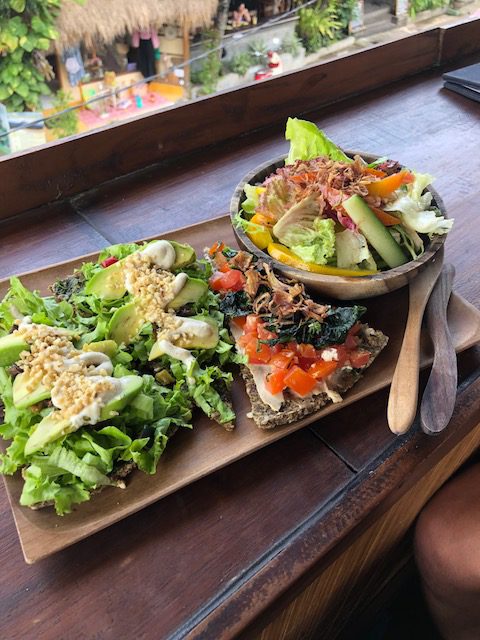 Moksa 2/3 – A great venue that is very cool and off the beaten path. We ate dinner here with a new friend that we made and had the chance to share three apps, mains and desserts. So we got a wide variety of items to taste. I think too many of the dishes were spicy for me bringing this to just a great and not the best. I still definitely recommend experiencing it at least once.
Locavore 2/3 – We went here on our second night in town. Just note we made a reservation almost two months in advance. It is a high end fancy restaurant with a veg and carnivore tasting menu. We got one of each and did 9 courses. The portions were small (as expected) anti was very good and very unique. We definitely enjoyed it. Next time I wouldn't recommend going here on your second night when jet lag is strong. I practically fell asleep at the table.
Atman 2/3 – We ordered in from here while we stayed at Devi's place and at Desa Bulan. We kind of went all out on the first meal  – and ordered quite a few items from the menu. Jesse was in heaven! However the coconut mushroom soup is worth getting and so are the crispy chicken fingers (made with coconut flour)! The second time we ordered we got their gluten free red rice pizza which was pretty darn good – loaded with pesto, cashew cheese and veggies. Quite impressive and it was fun to order in again!
Elephant 2/3 – We hit up this place for one ofour first lunches in Bali. It was simple and clean with a variety of great options. You can build your own salad, get a green juice, a clean plant-based pad thai etc. We also went back for dinner the next night and had a handful of sides as our main.
Indus 2/3 – This was our second lunch in town. We sat overlooking the Campuhuan ridge and the view was gorgeous. The meal was very good. Nothing over the top but a great spot to have a good, balanced lunch.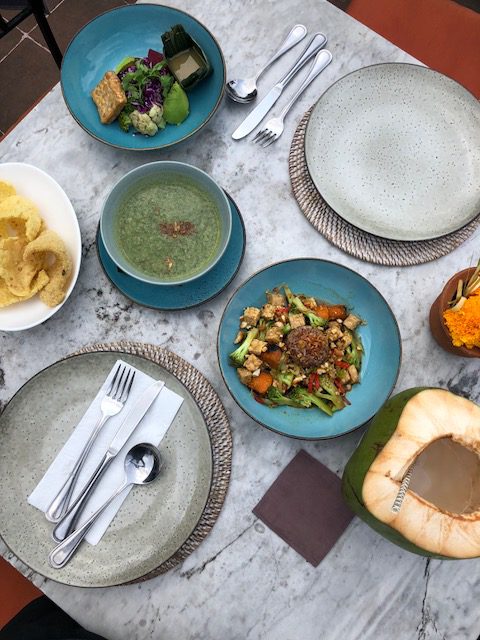 Kafe 2/3 – We had two decent meals here. They were both good, but nothing special. We ordered in the first time and it was perfect because at that point we were craving some animal protein so the ginger chicken and curried chicken were perfect. Then we went on a Sunday night for their special organic chicken dinner but we were disappointed because it has butter in it. So we had to order regular items off the menu and again it was decent but not amazing. I would still definitely go back as they have lots of options and maybe I just need to try something else.
Clear Cafe 2/3 – You have to go to clear for sure even just to experience the atmosphere. It is amazing, out of a futuristic movie. Just the vibe I got. The food was again okay, nothing incredible but they have an extremely diverse menu. We went once for dinner and once for lunch. What we loved most there was the strawberry milkshake for dessert!
Down to Earth 1/3 – This was a good place to go for a quick and nourishing meal. We also ordered in from here once as well. The food was okay but it wasn't anything special leaving a lasting memory. But everything is clean and the menu is quite diverse that you will most definitely find something to enjoy. It's focus is more macrobiotic vegan and they also have a wicked health food shop on the lower level and an extremely diverse drink menu!
DragonFly 1/3 – We were brought here by a new friend that we met up with. We would have never discovered it or known about it if it wasn't for her. That is the power of meeting new people, especially ones that live in Bali. It was a great spot on a little path off the major city streets. Really pretty and set in the rice fields and I loved eating on the floor. The food was simple and clean. Nothing too exciting. I had a tempeh burger and sweet potato fries, it was actually exactly what I was feeling like for lunch that day and it hit the spot! I would still go back, I just wouldn't make it a priority.
Bali Buda 1/3 – We wanted to check out Bali Buda as it was recommended to us as well. The meal just wasn't that good. We ordered the gluten free pizza, a salad and a green soup. The soup was the best part. The meal left no lasting impression. It's worth heading over that way to grab something and at least checking out their market/shop. They have gluten free breads, desserts, nuts, nut butters and other fun items you may want to stock up on.
Here are some restaurants we didn't make it to, but are on my list for next time.
Villas
Ratings for the villas below are based on overall experience, cleanliness, service, vibe and decor. Some we would go back to in a heartbeat and others not so much! They are listed in the order that we stayed in them.
Gardenia 2/3 – This was our first stay in Ubud. We found it on AirBnB and is was perfect. It was clean, private, simple in terms of space (not to many rooms) and the perfect place to park ourselves for the first week. We would highly recommend it. There is AC if you need it, a cozy kind bed and a gorgeous veranda + pool. You will have breakfast made for you each morning and the staff and owners are lovely. It's about a 15 min walk to Ubud centre.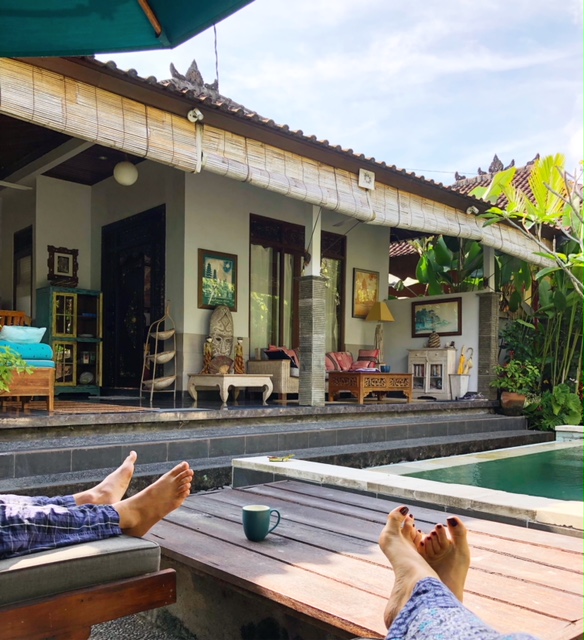 Hyacinth House 1/3 – This was our second stay in Ubud just down the path from Gardenia. We were recommended to stay here by our friends, they loved it. But Jesse and I did not. Especially compared to Gardenia. It is the same owners – however the feel was completely different. It kind of had an old cottage feel, it was musty, rustic and quite shaded in – there was also too many rooms for what we needed. It wasn't our vibe and we didn't have the same urge to stay in like we did at the first place. Also about a 15 min walk to Ubud.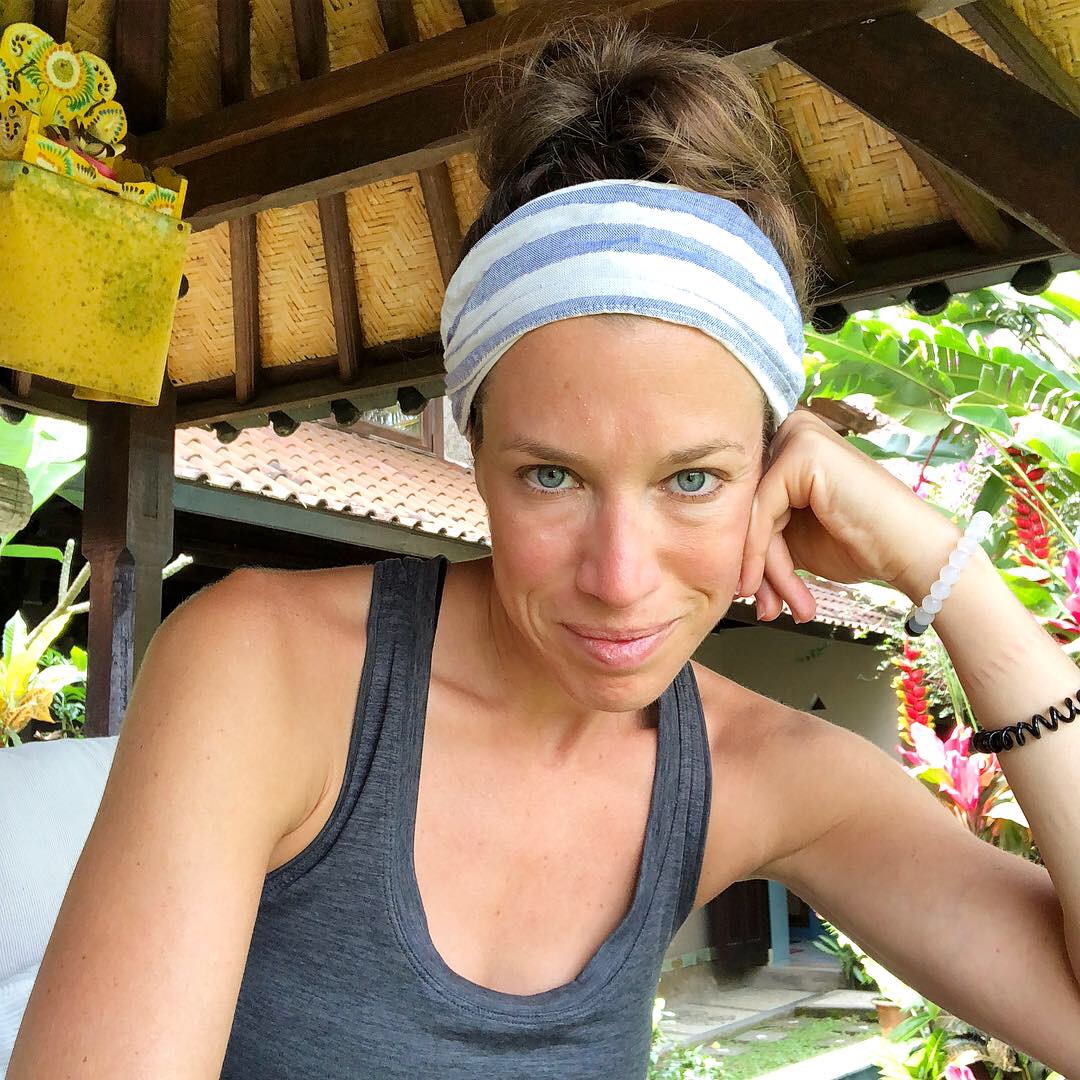 Devi's Place 3/3 – By the time we made it here we were so ready for a change that it was purely heaven. The location was quite close but not in the same area. It was spacious, stunning and exactly how we wanted to spend our holiday. We don't really have any complaints. The pool was huge, the rooms were all clean – the bathroom is amazing. Lots of space to spread out but not too big. We loved Devi's Place and would 100% stay there again in Villa Mandala.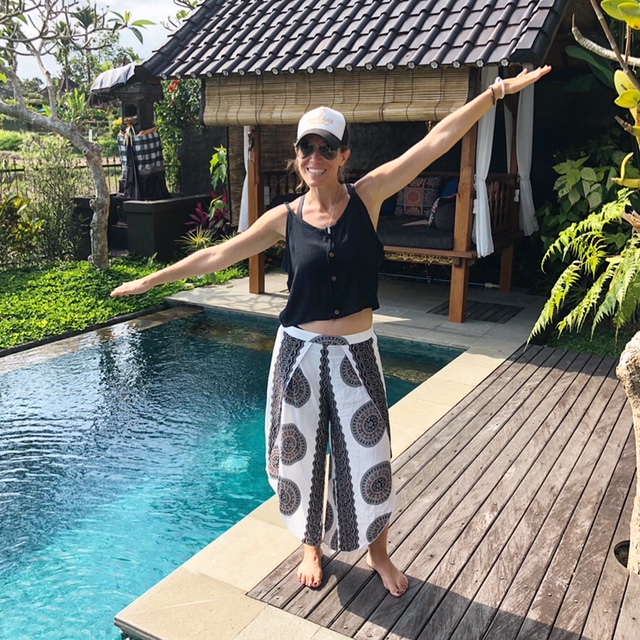 Desa Bulan 2/3 – This was our last stop. We had high hopes and although it was beautiful it was not the best. We spent a lot of money to stay here and it did not meet our standards. There were a few mishaps on night number one which affected the mood. But the scenery is stunning, it's open concept and has a very fresh feel. The view of the sunset is quite surreal and the staff were extremely friendly and accommodating.
Spas 
Ratings for the spas are based on quality of ingredients being organic and natural, quality of the treatments and the service.
The spas in bali are a dime a dozen, there is pretty much one on every block. Best to get recommendations but overall you aren't paying much, so even if you don't have a great experience you won't be too much out of pocket. Most hour long treatments are in the range of $10-$20 Canadian dollars. Not too shabby.
Cantika 3/3 – By far the best spa. They have four locations. It's more rustic and not as sexy as some of the others but I like that. The rooms are almost outdoors and their product and oils are all handmade and they use natural flower essences and oils. Most importantly, their treatments are amazing. I highly recommend the head massage and hair treatment!
Putri Spa 2/3 – This was the first spa we experiences on Day one. So it will forever have an imprint on me as we got a 1.5 hour long balinese massage and it was amazing. They literally massage every square inch of your body, full breasts – everything except for inside of any crevices if you know what I mean. It was delicious and so rejuvenating after a long flight. I also got a facial and shiatsu massage here that weren't so great, so they lost a few points for that especially since their creams and cleansers weren't natural.
Fresh Spa 2/3 – I popped in there for a 30 min back massage and it was perfect for a busy day walking around Ubud. It is right in the centre of town so nice if you are already in the city. But I wouldn't go out of my way and the prices are a bit more expensive. But overall so cheap
Private Spa 2/3 – There is no website associated with this one. It was just a recommendation of a man named Siddhi who was around the corner of our first accommodations. Right near yellow flower. He was great! If you stay at Gardenia or Hyacinth you can ask Henry for the contact info.
Clear Spa 1/3 – This was a nice experience but nothing special and definitely not a relaxing environment.
Am0 Spa (Canggu) 1/3 – We are in canggu for the day and I wanted a foot massage. So literally just found one randomly that was near where I was at the time. Nothing special at all, but still really nice.
Excursions/Day Trips
These ratings are based on the overall experience and how much fun it was! At the same time the best are things that are must do and you should not miss. The others you can look into and see if it feels like something you want to check out.
Hiking Mt Batur 3/3 – Waking up at 1:30 am was totally worth it for this hike! I would recommend doing this early on in your trip so you can bare with the time. It is such a fun experience from the car ride over to the actually trekking the mountain which takes about two hours to go up. You are doing this in pitch black might I mention! Once you reach the summit, roughly around 5 am – the sun is just peaking in the horizon and starts to rise around 6 am. It is breathtaking. We had eggs cooked in volcanic steam for breakfast and played with monkeys on the way down. Head over to my instagram to check it out!
Hot Springs 3/3 – This was part of our morning hike up Batur but it was an experience on all on it's own. We went right after the hight, it was literally across the street. It was the perfect way to rejuvenate post hike. We spent two hours in the spring pools and just chilled looking at Mt Agung across the way (see featured image) also see these images as well.
Coffee and Cacao Plantation 3/3 – This was also part of this incredible morning of hiking and hot springs. On our way home we went to eh coffee plantation and experienced the tastiest teas and I even had a sip of coffee and lots of chocolate! It was so much fun to see how the famous Luwak coffee is made and to try it for the first time!
Coconut Oil Making Workshop 3/3 – Of course Jesse and I had to make our own coconut oil in Bali. It was so cool to go through the process from coconut to oil. I would highly recommend this few hour day trip! See the pictures from the day here!
Cooking Class + Organic Farm Tour 3/3- Another obvious choice for us, a cooking class. This is something that is highly recommended to do in Bali but we went a step beyond and did it on an organic farm. It was super fun! First you start the day going to a local market with all kinds of fruit and vegetable vendors just to experience it. Then you tour the organic farm, pick your produce and make a delicious traditional balinese meal. See what we made!
Tegallalang Rice Terrace 3/3 – We did a fun day trip with our driver Blue and this was the first stop (followed by the next three places). It was gorgeous to see these rice fields and we even went on a swing there to get the full experience. Something I wouldn't normally do! By the way, don't get suckered in the the Bali Swing. It's overprice and nothing special so I hear. You can have a simple fun experience here.
Spring Temple –  2/3 This is the famous temple in Bali to go in the water and "get cleansed". There is alot of history and rituals performed there but we just went to go and see it. We didn't get in the water as I had heard it's not clean and I didn't want to take any risks.
Butterfly Park 1/3 – I am a butterfly lover but this park was not that impressive. It was fun to be surrounded by butterflies but it wasn't that big and certainly not worth the entrance fee. However the one super cool thing to see what the chrysalis of a variety of butterflies that was metallic looking. Like nothing I had ever seen before! See picture #2!
Tegenungan Waterfall 2/3 – This was the last stop on our trip and it was super beautiful to see. It was very crowded and again we hear the water wasn't clean so we didn't get in. So it wasn't much of an experience just more of a view. I hear there are other waterfalls to check out where you can actually get in the water and enjoy!
Campuhan Ridge Walk 3/3 – This was a super fun was to start our days when we were staying at location 1 and 2. It was close by and it's a stunning experience to see the valley in Ubud. It takes about 1 hour to go to the half way point and back. So it's a nice way to start the day. There are even little restaurants up there to stop at and grab a coconut to rehydrate!
Yoga
We only checked out two yoga studio's in Bali even though there are so many more to explore!
Intuitive Flow 3/3 – This is a special small and quaint studio tucked into the footpaths and near the first two locations. It has a gorgeous studio on an upper level overlooking the campuhuan valley. There are many different classes to try and the teachers are locals (not tourists) – which makes the classes extra special and authentic.
Yoga Barn 2/3 -I feel like everyone who comes to Bali knows about Yoga Barn. It is definitely worth checking out as it's a whole compound. The Yin glass that we participated in was amazing actually the only downfall is that it is super crowded which takes away from the relaxation component of Yoga.
Other info and helpful tips!
SIM cards – You can get a sim card for your unlocked phone at the airport or in town. We got 30GB of data which was more than enough. I think we paid $27 for it and we didn't even get through it all.
Whatsapp – You will want to have this downloaded on your phone as this is the main way to communicate with everyone in Bali. Whether you want to order in food, make a reservation or contact a driver this is the main mode of connection.
Money – I would recommend getting money exchanged at your bank before you go. We came with about $1500 CAD in Rp. Which was approximately 15,000,000. This goes a long way there! From here we just took out money at bank machines and occasionally used our debit and credit cards.
Come prepared – You won't be able to order anything over seas through amazon etc. So if there are supplements or special foods, snacks etc that you need come prepared. There is a lot in Bali to buy but specialty items – I would bring your own.
Jet lag – Be prepared to be up at 4 am your first few days in Indonesia. Wide awake and ready to go lol. Then you will most likely be tired at 7, 8 or 9 pm. It took us about a  week to adjust to the time here. But I actually liked getting up that early and going to bed early. I would recommend if you are going to do Mt Batur, do it early on in the trip as it won't be that hard to get up at 1:30 am. Yup you heard that right!
Drivers – I would recommend getting a driver before you head to Bali. If your accommodation doesn't provide a driver to pick you up at the airport then I would recommend contacting Blue! He was our driver and he was great.  Friendly, always on time and shared many stories about the culture in Bali and you can ask him anything! He will also take you on any of the day trips or excursions that you want to do.
The bugs – The bugs are really really bad. I typically am one to get eating alive. Maybe it's my blood type (A) or I am just a magnet. Either way I got attacked. Mostly by teeny tiny little ants. The bites sting like crazy. So bring some natural repellent made from neem or essentila oils, if not you will definitely be able to buy some at Bali Buda or Cantika spa while you are here.
Walking on sidewalks – There are very few sidewalks in Bali and even the ones that exist are broken, uneven and very very narrow. So be prepared to walk in single file on busy streets with motorbikes and cars whizzing past you.
Bargain bargain bargain – When you are shopping in Ubud, do not take the first price given to  you at far value. You can negotiate up to 50% off of what they offered. Just keep going lower and if they don't accept, put the item down and walk away or say you are going to go across the street and buy it from there (because it was lower ;). They will wave you back and agree on your price, most of the time.
Tips – I am still unclear on this. Most restaurants have a built in 5-10% service charge + tax. So I think leaving anything in addition is up to your discretion. We left some small bills here and there especially if we really liked a place or if they had a tip jar. I am not clear on how much or how little. Just use your discretion.
Roosters – There are roosters everywhere! not just that but they are cooped up in a single cage and it made me so sad. Especially knowing that they are likely just on their way to the next cockfight! I wish there was a way to set them all free! It hurt my heart everytime I walked passed one.
The dogs – There are dogs roaming the streets of Bali. Many of them are Balinese dogs and are part of a property or belong to an owner but they hang on the streets. Many are scruffy and quite dirty. As much as I wanted to hug and squeeze all of them, I would advise you don't touch them. They are not scary and will not bite you, they are very sweet. Just different then domesticated pooches that you know!
Well there you have it your all in one resource for Bali! If you have been and have any recommendations, please add them to the comments below so others can learn more!
Also be sure to listen to this episode that we recorded right from our villa in Bali, all about our experience – Bali Offerings!