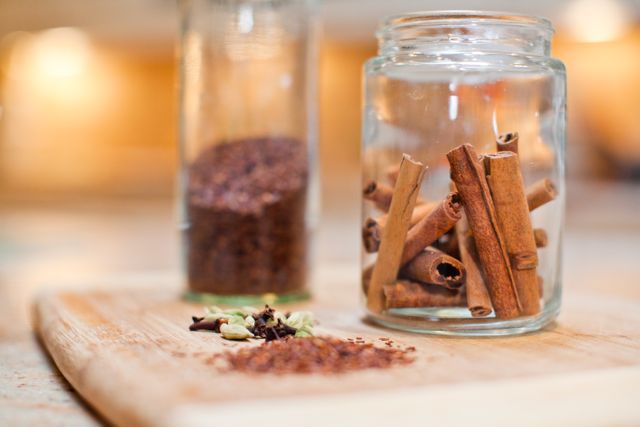 It's all about staying warm and cozy in the months ahead. Luckily there are many ways to do this using different foods, activities and spices! All of these things can help you ease into the winter.
Here are five ways I like to warm up:
1) Hit a hot yoga class: Many people tend to have a little difficulty staying active during the cold winter months, because it often means having to leave your nice, toasty bed and getting out to the gym. Adding some hot yoga sessions into your weekly workout schedule is a great compromise. You can expect to burn up to 600 calories per class, detox some of those Christmas goodies, and sleep like a baby that night. My personal favourite is Iyashi Bedrock Spa. Check out this blog post to find out more about mine and Erika's experience there!
2) Enjoy a cup of superfood tea (like my Superfood Tea Blend!), or whip up a cup of homemade hot chocolate (Try out one of these awesome recipes!): I know, those giant Starbucks lattes are calling your name, and they might seem innocent enough, but have you ever seen the ingredient list for one of those guys? They are loaded with high fructose corn syrup, artificial flavouring, and food colouring. Yum.
3) Use warming spices in your cooking, such as ginger, cinnamon, or turmeric. Warming spices help to improve circulation, thus keeping your body cozy all winter long! Spices also have some other really awesome properties going for them. The ones listed above are antiseptic (so they'll help reduce stress on your immune system this winter), packed with natural antioxidants, and help boost your metabolism. Learn how to get warm with your food and incorporate these spices at one of my warming winter cooking classes!
4) Unwind in a hot bath: Having a hot bath is a great way to take some time for yourself, stay warm, and de-stress during the busy holiday season. Skip the chemically scented bubble bath, and indulge in natural, nourishing ingredients that you already have at home. Grab a book and one of these fun bathtime add-ins:
– Oatmeal: Make an oatmeal sachet by scooping 1 cup of rolled oats into the sock end of a pair of pantyhose cut off at the knee. Tie tightly at the end, and bring into the bath with you. Squeeze gently to release the oatmeal water, or gently scrub your body with it. Oatmeal is soothing for dry and itchy skin, which makes is beneficial for skin conditions such as eczema, psoriasis, rashes, and sunburn.
– Epsom Salts: Epsom salts contain magnesium which helps to relax aching muscles, regulate blood pressure, and regenerate skin cells.
– Herbal Tea: Brew 1 – 2 cups of strong herbal tea. Strain and add to running bath water. (What kind of herbs should you use? My suggestions include: sage, rosemary, lavender, green tea, chamomile, or peppermint)
5) Host a healthy potluck dinner for your friends: When you make some big changes to your diet, one of the questions you might ask yourself is "how do I socialize when I don't want to eat what my friends are eating?" A healthified potluck is one solution! Let them know that the theme for your potluck will be healthy dishes, to help keep you all on track during the holiday season. Knock their socks off with the Carrot Pineapple Cake recipe below! Its way better for you than those traditional holiday cakes; instead of being packed with sugar and booze, its packed with fresh fruit and veggies! Enjoy!
Carrot Pineapple Cake
This is a moist tender cake filled with fruit. The combination of carrots and pineapple makes it dense and divine. The light spelt flour makes this cake extra soft! You can make this cake gluten free by substituting with brown rice flour. Top with cashew cream for the perfect complement to this vegan version of an all-time classic
Ingredients
1 1/2 cups
 spelt flour or all purpose gluten free flour (also can be made train free with 1/2 cup each coconut, tapioca and tiger nut flour)
Instructions
1. In a medium sized bowl, combine first five ingredients until mixed together. Add grated carrot, pineapple and coconut and stir until combined.
2. In a large bowl combine flour, salt, cinnamon, baking powder and walnuts. Make a well in center of these dry ingredients and then pour the wet ingredients into the well and stir gently until all of the ingredients are combined thoroughly.
3. Scoop the mixture into 2 small oiled and floured spring form pans or one large round or square pan. Place in a preheated oven and bake for 40 minutes. Poke a toothpick or skewer into the center of the cakes to make sure they are done- skewer should be clean.
4. Let the cakes cool on rack before removing (cake may stick because of the pineapple) remove sides of pan and then slide a flat knife under cake to separate it from bottom.
5. Once cakes are thoroughly cooled spread the cashew cream onto the bottom layer of the cake, then add the top layer and continue to spread the remaining cream over the top and sides.
6. Garnish with walnuts, pineapple or coconut flakes.